The Design and Implementation of Scrambling Wavelength Hopping with AWG Router and Optical Switch over Secure WDM Network
Yao-Tang Chang

Department of Information Technology Kao Yuan University Kaohsiung, Taiwan.

Hsu-Chih Cheng

Department of Electro-Optical Engineering, National Formosa University, Yunlin, Taiwan, ROC

Yih-Chuan Lin

Department of Computer Science and Information Engineering, National Formosa University, Taiwan, ROC

Yu-Xiang Zheng

Department of Electro-Optical Engineering, National Formosa University, Yunlin, Taiwan, ROC
Keywords:
arrayed waveguide grating, wavelength hopping, wavelength division multiplexing, optical switch, photo-detector
Abstract
In current experimental design, by exchanging the optical switch configured in front of arrayed waveguide grating (AWG) router, the wavelength hopping configuration was implemented over wavelength division multiplexing (WDM) network. In addition, in order to enhance the variable wavelength hopping pattern of proposed scheme, the transceiver oscillators were used to trigger the optical switch by a series of random and un-predictable electrical signal. The experiment results proved possible solution of secure WDM network that the wavelength hopping effect was monitored by optical spectrum analyzer (OSA) in optical domain. By using the oscilloscope for monitoring, the results showed the transmitted analogy signal of 10MHzwas extracted correctly by photo-detector while the wavelength hopping is happened
References
T. H. Shake, "Security performance of optical CDMA against eavesdropping," Journal of Lightwave Technology, vol. 23, no. 2, pp. 655-670, February 2005.
T. H. Shake, "Confidentiality performance of spectral-phase-encoded optical CDMA," Journal of Lightwave Technology, vol. 23, no. 4, pp. 1652-1663, April 2005.
S. P. Tseng and J. Wu, "The SAC OCDMA PON with super perfect difference code," Proc. IEEE International Conference on Communications, June 2011, pp. 1-4.
L. Tancevski, I. Andonovic, and J. Budin, "Secure optical network architectures utilizing wavelength hopping/time spreading codes," IEEE Photonics Technology Letters, vol. 7, no. 5, pp. 573-575, May 1995.
Y. T. Chang, C. C. Sue, and J. F. Huang, "Robust design for reconfigurable coder/decoders to protect against eavesdropping in spectral amplitude coding optical CDMA networks," Journal of Lightwave Technology, vol. 25, no. 8, pp. 1931-1948, August 2007.
Y. T. Chang and Y. C. Lin, "Dynamic reconfigurable encryption and decryption with chaos/M-sequence mapping algorithm for secure H.264/AVC video streaming over OCDMA passive optical network," Multimedia tools and Application, vol. 75, no. 16, pp. 9837-9859, August 2016.
Y. T. Chang and C. W. Tsailin, "Dynamic scrambling scheme of arrayed-waveguide grating-based encryptors and decryptors for protection against eavesdropping," Computers and Electrical Engineering, vol. 49, pp. 184-197, January 2016.
C. T. Yen and C. Y. Liu, "Hybrid OFDM/OOK modulations in OCDMA scheme for free space optics," Proc. Engineering and Technology Innovation, vol. 3, 2016, pp. 1-3.
Y. T. Chang and Y. C. Lin, "The scrambling cryptography implemented with chaotic sequence trigger optical switch algorithm in WDM passive optical network," Proc. of the 49th Annual IEEE International Carnahan Conference on Security Technology, September 2015, pp. 259-262.
Y. T. Chang, J. F. Huang, Y. C. Huang, and Y. T. Liou, "Security enhancement on reconfiguring coded wavelength with tunable wavelength filter array triggered chaotic sequences," Proc. Engineering and Technology Innovation, vol. 3, 2016, pp. 4-6.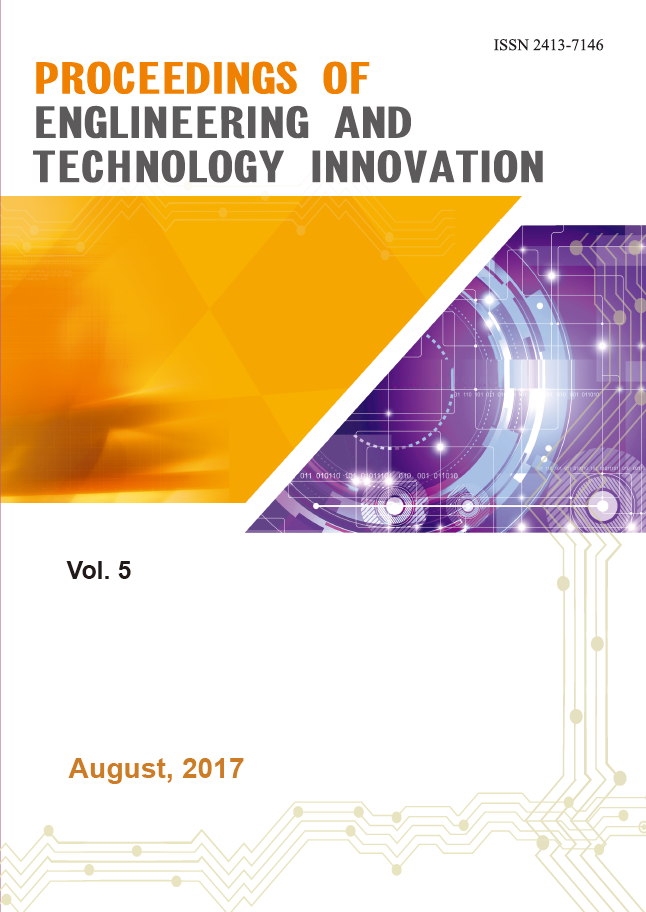 How to Cite
[1]
Y.-T. Chang, H.-C. Cheng, Y.-C. Lin, and Y.-X. Zheng, "The Design and Implementation of Scrambling Wavelength Hopping with AWG Router and Optical Switch over Secure WDM Network", Proc. eng. technol. innov., vol. 5, pp. 7-12, Aug. 2017.
---
Submission of a manuscript implies: that the work described has not been published before that it is not under consideration for publication elsewhere; that if and when the manuscript is accepted for publication. Authors can retain copyright of their article with no restrictions. Also, author can post the final, peer-reviewed manuscript version (postprint) to any repository or website.


Since Oct. 01, 2015, PETI will publish new articles with Creative Commons Attribution Non-Commercial License, under The Creative Commons Attribution Non-Commercial 4.0 International (CC BY-NC 4.0) License.
The Creative Commons Attribution Non-Commercial (CC-BY-NC) License permits use, distribution and reproduction in any medium, provided the original work is properly cited and is not used for commercial purposes