Development of Mixing and Pressing Processes of Split-Gill Mushroom Spawn Blocks
Keywords:
machine, split-gill mushroom, mixing process, mushroom spawn block pressing
Abstract
This study aims to develop the mixing and pressing processes of split-gill mushroom spawn blocks through the development and construction of a semi-automatic mushroom spawn mixing. The developed machine uses a 0.5 hp motor to drive the mixing tank and the press cylinder, which are connected to a 1:60 reduction gear. The results show that the semi-automatic mushroom spawns mixing and pressing machine developed in this study are within the standard ranges, that the split-gill mushroom spawn blocks with an average weight of 598 g, an average height of 10.2 cm, and an average density of 0.33 g/cm3. As for production capacity, manual pressing produced 40 mushroom spawn blocks per hour while the developed machine produced 112 mushroom spawn blocks per hour, which is 2.8 times faster.
References
K. Yelithao, U. Surayot, C. Lee, S. Palanisamy, N. M. Prabhu, J. Lee, et al., "Studies on Structural Properties and Immune-Enhancing Activities of Glycomannans from Schizophyllum Commune," Carbohydrate Polymers, vol. 218, pp. 37-45, August 2019.
C. Hobbs, "The Chemistry, Nutritional Value, Immunopharmacology, and Safety of the Traditional Food of Medicinal Split-Gill Fugus Schizophyllum Commune Fr.:Fr. (Schizophyllaceae). A Literature Review," International Journal of Medicinal Mushrooms, vol. 7, no. 1&2, pp. 127-140, January 2005.
A. Klaus, M. Kozarski, M. Niksic, D. Jakovljevic, N. Todorovic, and L. J. Van Griensven, "Antioxidative Activities and Chemical Characterization of Polysaccharides Extracted from the Basidiomycete Schizophyllum Commune," LWT-Food Science and Technology, vol. 44, no. 10, pp. 2005-2011, December 2011.
V. Basso, C. Schiavenin, S. Mendonça, F. G. de Siqueira, M. Salvador, and M. Camassola, "Chemical Features and Antioxidant Profile by Schizophyllum Commune Produced on Different Agroindustrial Wastes and Byproducts of Biodiesel Production," Food Chemistry, vol. 329, article no. 127089, November 2020.
S. Lee and C. S. Ki, "Inflammatory Responses of Macrophage-Like RAW264.7 Cells in a 3D Hydrogel Matrix to Ultrasonicated Schizophyllan," Carbohydrate Polymers, vol. 229, article no. 115555, February 2020.
D. Smirnou, P. Knotek, K. Nesporova, D. Smejkalova, V. Pavlik, L. Franke, et al., "Ultrasound-Assisted Production of Highly-Purified β-Glucan Schizophyllan and Characterization of its Immune Properties," Process Biochemistry, vol. 58, pp. 313-319, July 2017.
B. Du, Y. Yang, Z. Bian, and B. Xu, "Characterization and Anti-Inflammatory Potential of an Exopolysaccharide from Submerged Mycelial Culture of Schizophyllum Commune," Frontiers in Pharmacology, vol. 8, article no. 252, May 2017.
N. K. Chandrawanshi, D. K. Tandia, and S. K. Jadhav, "Nutraceutical Properties Evaluation of Schizophyllum Commune," Indian Journal of Science and Research, vol. 13, no. 2, pp. 57-62, 2017.
K. Zhong, L. Tong, L. Liu, X. Zhou, X. Liu, Q. Zhang, et al., "Immunoregulatory and Antitumor Activity of Schizophyllan Under Ultrasonic Treatment," International Journal of Biological Macromolecules, vol. 80, pp. 302-308, September 2015.
N. Saetang, R. Ramaraj, P. Pumisutapon, and Y. Unpaprom, "Influence of Hot Water Treatment on Alternative Mycoprotein from Schizophyllum Commune," Proceeding of the 3rd International Conference on Renewable Energy, Sustainable Environmental & Agri-Technological and Innovation, pp. 1-9, December 2021.
O. O. Modestus, A. I. Olabisi, T. E. Boye, and E. O. Benjamin, "Development of Water Hyacinth Briquetting Machine," International Journal of Scientific Research in Information Systems and Engineering, vol. 2, no. 1, pp. 43-47, April 2016.
A. Hufad, Purnomo, N. Sutarni, A. Rahmat, and J. Sulistyo, "Economic Analysis of Oyster Mushroom Waste Utilization for Alternative Energy in Community Empowerment Program," Test Engineering and Management, vol. 83, pp. 8680-8690, May/June 2020.
S. Y. Kpalo, M. F. Zainuddin, L. A. Manaf, A. M. Roslan, and N. N. R. Nik Ab Rahim, "Techno-Economic Viability Assessment of a Household Scale Agricultural Residue Composite Briquette Project for Rural Communities in Nigeria," Sustainability, vol. 14, no. 15, article no. 9399, August 2022.
K. Suppalakpanya, R. Nikhom, and S. Nikhom, "Preparation of Biomass Briquettes Using Durian Peel Char and Spent Mushroom Compost Char," International Energy Journal, vol. 20, no. 4, pp. 621-628, December 2020.
S. Chen, Y. Zhao, Z. Tang, H. Ding, Z. Su, and Z. Ding, "Structural Model of Straw Briquetting Machine with Vertical Ring Die and Optimization of Briquetting Performance," Agriculture, vol. 12, no. 5, article no. 736, May 2022.
W. Boonchouytan and J. Chatthong, Semi-Automatic Mushroom Briquette Mixing and Pressing Machine, Thai Petty Patent, 2203000949, April 21, 2022.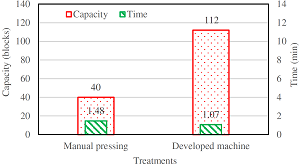 How to Cite
[1]
Worapong Boonchouytan, Jaknarin Chatthong, and Nantapong Pongpiriyadecha, "Development of Mixing and Pressing Processes of Split-Gill Mushroom Spawn Blocks", Proc. eng. technol. innov., vol. 24, pp. 63–72, Apr. 2023.
License
Copyright (c) 2023 Worapong Boonchouytan, Jaknarin Chatthong, Nantapong Pongpiriyadecha
This work is licensed under a Creative Commons Attribution-NonCommercial 4.0 International License.
---
Submission of a manuscript implies: that the work described has not been published before that it is not under consideration for publication elsewhere; that if and when the manuscript is accepted for publication. Authors can retain copyright of their article with no restrictions. Also, author can post the final, peer-reviewed manuscript version (postprint) to any repository or website.


Since Oct. 01, 2015, PETI will publish new articles with Creative Commons Attribution Non-Commercial License, under The Creative Commons Attribution Non-Commercial 4.0 International (CC BY-NC 4.0) License.
The Creative Commons Attribution Non-Commercial (CC-BY-NC) License permits use, distribution and reproduction in any medium, provided the original work is properly cited and is not used for commercial purposes