On a Touch-Activated Wearable Device with Automated Location Sending Capability
Conrad A Populi

Department of Electronic Engineering, Technological Institute of the Philippines

Mary Emmanuelle Huela

Department of Electronic Engineering, Technological Institute of the Philippines

John Paulo Ilagan

Department of Electronic Engineering, Technological Institute of the Philippines

Cezarina Noble

Department of Electronic Engineering, Technological Institute of the Philippines
Keywords:
GPS, GSM, SMS, wearable, coordinates, closest police station, alarm, program
Abstract
This study proposes a device that enables a person in distress to remotely seek for help. It is a wearable device consisting of a microcontroller and a GPS-GSM module that has the capability to determine the closest police stations based on the current location of the wearer. When being triggered, it sends the current coordinates of the wearer via SMS messages to the corresponding nearest police station, and a pre-defined contact number. Afterwards, the device sounds off an alarm to fend off any threat, or to serve as an alert of your location.
References
R. Villanueva, "One woman or child is raped every 53 minutes," The Philippine Star, March 5, 2016.
N.Bhardwaj and N. Aggarwal, "Design and development of 'Suraksha' - a women safety device," International Journal of Information & Computation Technology, vol. 4, no. 8, pp. 787-792, February 2014.
D. Monisha, M. Monisha, G. Pavithra, and R. Subhashini, "Women safety device and application – FEMME," Indian Journal of Science and Technology, vol. 9, no. 10, pp. 1-6, March 2016.
B. Chougula, A. Naik, M. Monu, P. Patil, and P. Das, "Smart girls security system," International Journal of Application or Innovation in Engineering & Management, pp. 281-284, April 2014.
G. C. Harikiran, K. Menasinkai, and S. Shirol, "Smart security solution for women based on internet of things (IOT)," International Conference on Electrical, Electronics, and Optimization Techniques, IEEE Press, March 2016, pp. 3551-3554.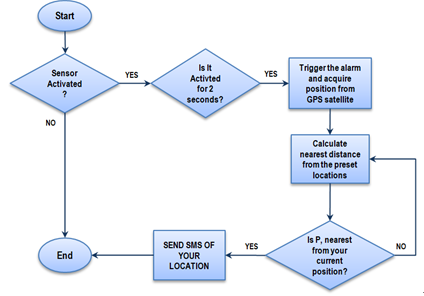 How to Cite
Populi, C. A., Huela, M. E., Ilagan, J. P., & Noble, C. (2018). On a Touch-Activated Wearable Device with Automated Location Sending Capability. Proceedings of Engineering and Technology Innovation, 9, 38-43. Retrieved from https://ojs.imeti.org/index.php/PETI/article/view/2597
---
Submission of a manuscript implies: that the work described has not been published before that it is not under consideration for publication elsewhere; that if and when the manuscript is accepted for publication. Authors can retain copyright of their article with no restrictions. Also, author can post the final, peer-reviewed manuscript version (postprint) to any repository or website.


Since Oct. 01, 2015, PETI will publish new articles with Creative Commons Attribution Non-Commercial License, under The Creative Commons Attribution Non-Commercial 4.0 International (CC BY-NC 4.0) License.
The Creative Commons Attribution Non-Commercial (CC-BY-NC) License permits use, distribution and reproduction in any medium, provided the original work is properly cited and is not used for commercial purposes