MF Integrator: A Module for Converting METAFONT into Outline Font
Keywords:
metafont, freetype, fontconfig, font processing
Abstract
METAFONT is a description language that generates TeX-oriented bitmap fonts which are not popular outside the TeX world. The number of fonts prepared with METAFONT are very small compared with outline fonts. Font libraries like FreeType, which are used to render fonts in outline and some bitmap formats doesn't provide any support for METAFONT. A research, MFCONFIG module added an indirect support of METAFONT inside FreeType rasterizer but it has problems of performance and dependency. In this paper, we have proposed a module named MF Integrator for FreeType rasterizer. The proposed module overcome the problems of performance and dependency of MFCONFIG module. Authors tested proposed module with a client application which is used to display styled text on screen. Users can now take the benefits of METAFONT by using our proposed MF Integrator module.
References
D. E. Knuth, Computers & typesetting volume c: the metafont book, 1st ed. Boston: Addison-Wesley Professional, 1986.
"The GFtoPK processor," http://texdoc.net/texmf-dist/doc/generic/knuth/mfware/gftopk.pdf, January 06, 2014.
D. Turner, R. Wilhelm, and W. Lemberg, "Freetype", www.freetype.org, 2000.
J. Y. Choi, S. M. Kim, H. J. Lee, and G. H. Jung, "MFCONFIG: a METAFONT plug-in module for FreeType rasterizer," TUGBoat, vol. 37, no. 2, pp. 163-170, 2016.
Keith Packard, "Font configuration and customization for ppen source systems", https://keithp.com/keithp/talks/guadec2002/fontconfig.pdf
K. Packard, "The Xft Font Library: Architecture and Users Guide," Proc. the XFree86 Technical Conference, USENIX Press, November 2001, pp. 1-17.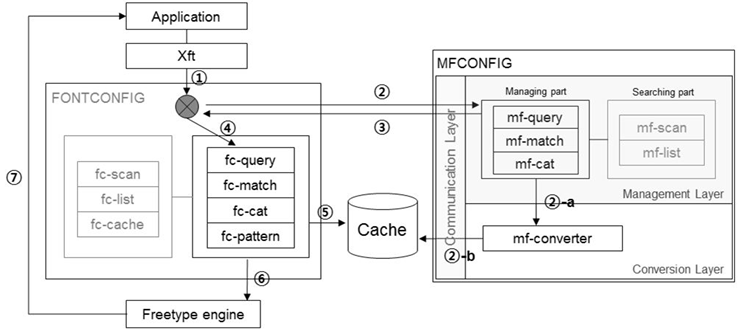 How to Cite
[1]
A. Ul Hassan, J. Choi, and G. Jeong, "MF Integrator: A Module for Converting METAFONT into Outline Font", Proc. eng. technol. innov., vol. 9, pp. 44–48, Jul. 2018.
License
---
Submission of a manuscript implies: that the work described has not been published before that it is not under consideration for publication elsewhere; that if and when the manuscript is accepted for publication. Authors can retain copyright of their article with no restrictions. Also, author can post the final, peer-reviewed manuscript version (postprint) to any repository or website.


Since Oct. 01, 2015, PETI will publish new articles with Creative Commons Attribution Non-Commercial License, under The Creative Commons Attribution Non-Commercial 4.0 International (CC BY-NC 4.0) License.
The Creative Commons Attribution Non-Commercial (CC-BY-NC) License permits use, distribution and reproduction in any medium, provided the original work is properly cited and is not used for commercial purposes