A Study on the Mode of Introducing Independent Maintenance into Traditional Industries That Rely on Manual Work
Keywords:
traditional industry, independent maintenance, competitive power
Abstract
The vast majority of Taiwan's enterprises are small and medium-sized enterprises, which account for 98% and mostly are built up by the traditional industry. But along with the technical progress and development of production technology, the traditional industry is faced with survival bottleneck because of high cost and various competitors. Therefore this research aims to explore the mode of introducing independent maintenance to traditional industries, and to develop a suitable one for today's traditional industries. Research results will be provided to the domestic traditional industries for reference in order to reduce the cost and difficulty they may have in importing independent maintenances.
References
A. M. Smith, Reliability-Centered maintenance, McGraw-Hill, 1993.
B. Wu and J. Seddon, "An anthropocentric approach to knowledge-based preventive maintenance," Journal of Intelligent Manufacturing, vol. 5, pp. 389-397, 1994.
E. A. Si1ver and Claude-Nicolas Fiechter, "Preventive maintenance with limited historical data," European Journal of Operational Research, vol. 82, no.1, pp. 125-144, 1995.
G. J. Hahn and S. S. Shapiro, Statistical Model in Engineering, Wiley, 1994.
R. H. McFadden, "Developing a database for a reliability, availability, and maintainability improvement program for an industrial plant or commercial building," IEEE Transactions on Industry Applications ,vol. 26, no. 4, 1990.
G. OKogbaa, J. Huang, and R. L. Shell, "Database design for predictive preventive maintenance system of automated manufacturing system," Computers and Industrial Engineering, vol. 23, no.1-4, pp. 7-10, 1992.
L. Pintelonm, and L. V. Wassenhove, "A Maintenance Management Tool," OMEGA, vol. 18, no. 1, pp. 59-70, 1990.
S. S. Shapiro and A. J. Gross, "Statistical modeling techniques," Dekker, 1981.
S. Nakajima, "TPM: introduction to TPM, total Productive maintenance," p. 14, Cambridge, Mass Productivity Press, 1988.
V. Alven, H. William, "Reliability Engineering (ARINC Research Corporation)," Prentice-Hill, Englewood Cliffs, NJ, 1964.
K. O. Cua, K. E. Mclone, R. G. Schroeder, "Relation-ships between implementation of TQM, JIT, and TPM and manufacturing performance," Journal of Operation Management, pp. 675-694, 2001.
G. Chand, B. Shirvani, "Implementation of in cellular manufacture," Journal of Materials Processing Technology, pp. 149-154, 2000.
M. Rodrigues, K. Hatakeyama, "Analysis of the fall of TPM in companies," Materials Processing Technology, pp. 276-279, 2006.
P. Katila,"Applying total productive maintenance-TPM principles in the flexible manufacturing systems," Technical Report, Lulea Tekniska University, 2000: 23, 2000.
A. Khanlari, K. Mohammadi, B. Sohrabi, "Prioritizing equipments for preventive maintenance (PM) activities using fuzzy rules," Computers & Industrial Engineering, pp. 01-16, 2000.
L. X. Ma, S. C. Dong, Y. Q. Yong, G. W. Yu, "Study on application of TPM in small and median-sized enter-prises," International Conference on Management Science and Industrial Engineering (MSIE), pp. 678-681, 2001.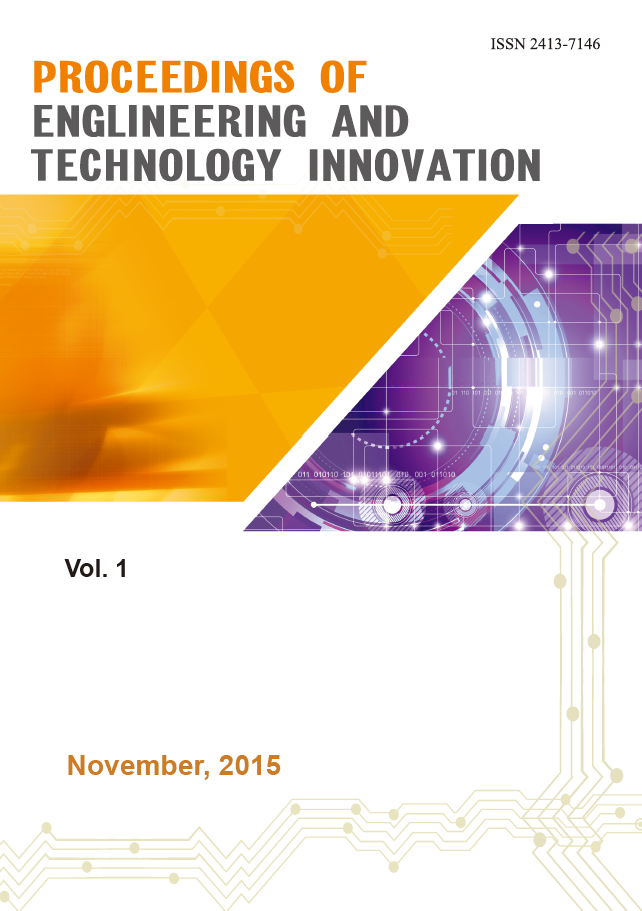 Downloads
How to Cite
[1]
C.-C. Shen, "A Study on the Mode of Introducing Independent Maintenance into Traditional Industries That Rely on Manual Work", Proc. eng. technol. innov., vol. 1, pp. 10–14, Nov. 2015.
License
---
Submission of a manuscript implies: that the work described has not been published before that it is not under consideration for publication elsewhere; that if and when the manuscript is accepted for publication. Authors can retain copyright of their article with no restrictions. Also, author can post the final, peer-reviewed manuscript version (postprint) to any repository or website.


Since Oct. 01, 2015, PETI will publish new articles with Creative Commons Attribution Non-Commercial License, under The Creative Commons Attribution Non-Commercial 4.0 International (CC BY-NC 4.0) License.
The Creative Commons Attribution Non-Commercial (CC-BY-NC) License permits use, distribution and reproduction in any medium, provided the original work is properly cited and is not used for commercial purposes