Using BPMN to Model a Patient Safety Promulgation Service Based on a Clinical Process
Keywords:
workflow management, web service, business process modeling notation
Abstract
In this paper, we used business process modeling standards to enhance the development of a patient-safety promulgation process with a web service. A web service that is related to a work process is typically in an organization that has been designed, built and stored in a web service repository. The purpose of using a web service is that it can be shared with multiple functional units within an organization via an Intranet. This paper further develops this approach and discusses the use of a visual modeling language to describe a clinical workflow clearly. The final outcome is business process re-engineering and is presented as a business process modeling notation. The workflow management we designed integrates a process for each functional unit in the organization to customize the workflow requirements that suit their needs. 748 cases had been notified among 13 months, the system play its role well even when notify proceeding had been changed. 
References
A. Hevner and S. Chatterjee, Design research in information systems, Springer US, 2010.
A.R. Hevner, S.T. March, J. Park, and S. Ram, "Design research in information systems research," Mis Quarterly, vol. 28, no. 1, pp 75-105, 2004.
B. Reiner, E. Siegel, and J. A. Carrino, "Workflow optimization: current trends and future directions," Journal of Digital Imaging, vol. 15, no. 3, pp. 141-152, 2002.
C. Combi and G. Pozzi, "Architectures for a temporal workflow management system," Proceedings of ACM Symposium on Applied Computing, Nicosia, Cyprus, March 2004. pp. 659-666.
J. Chen, D. He, and W. Anquan, "e-Commerce and innovation business process reengineering," Portland International Conference on Management of Engi-neering and Technology (PICMET '01), Coll. of Manage, vol. 1, pp. 163-164, 2001.
L. Fischer, 2007 BPM and workflow handbook, lighthouse point, Future Strategies Inc., Florida, 2007.
R. Eley, T. Fallon, J. Soar, E. Buikstra, and D. Hegney, "Barriers to use of information and computer tech-nology by Australia's nurses: a national survey." Journal of Clinical Nursing, vol. 18, pp. 1151-1158, 2009.
U. J. Gelinas, S. G. Sutton, and J. Fedorowicz, "Business processes and information technology," Cincinnati: South-Western/Thomson Learning, 2004.
W. M. P. Van der Aalst, A. H. M. t. Hofstede, and M. Weske, "Business process management: a survey," Lecture Notes in Computer Science, vol. 2678, pp. 1-12, 2003.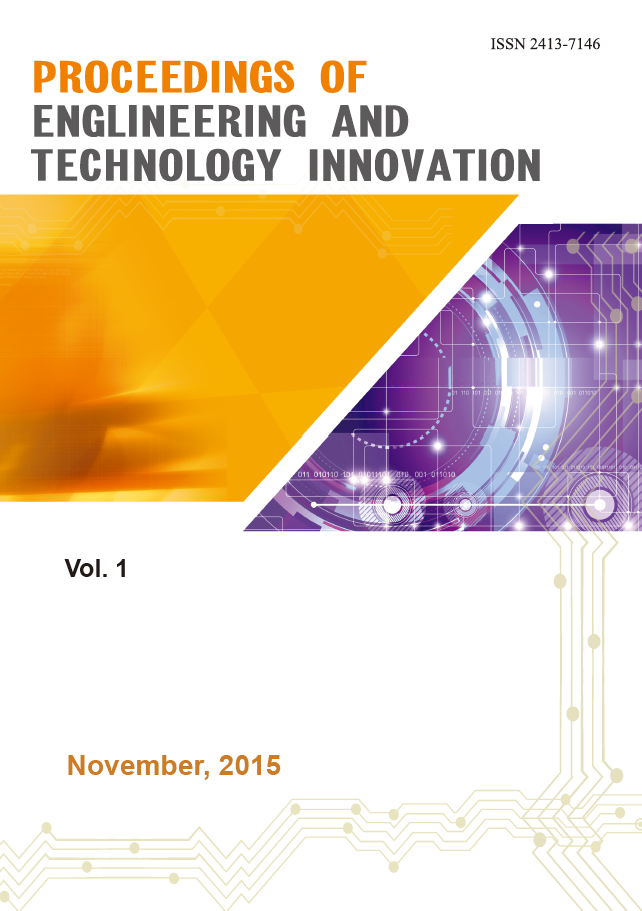 Downloads
How to Cite
[1]
W.-R. Huang, R.-C. Tseng, Y.-F. Hsu, T.-Y. Lee, and W.-C. Chu, "Using BPMN to Model a Patient Safety Promulgation Service Based on a Clinical Process", Proc. eng. technol. innov., vol. 1, pp. 36–39, Nov. 2015.
License
---
Submission of a manuscript implies: that the work described has not been published before that it is not under consideration for publication elsewhere; that if and when the manuscript is accepted for publication. Authors can retain copyright of their article with no restrictions. Also, author can post the final, peer-reviewed manuscript version (postprint) to any repository or website.


Since Oct. 01, 2015, PETI will publish new articles with Creative Commons Attribution Non-Commercial License, under The Creative Commons Attribution Non-Commercial 4.0 International (CC BY-NC 4.0) License.
The Creative Commons Attribution Non-Commercial (CC-BY-NC) License permits use, distribution and reproduction in any medium, provided the original work is properly cited and is not used for commercial purposes