Path Control iRobot Create2 Based Sensors
Keywords:
arduino, coding, control, iRobot create2, sensors
Abstract
Robots become a part of humans' daily lives. They work faster, more accurate, and tireless compared to humans. As technology developes, robots are more capable of serving people in more tasks than before. The objective of this study is to explain the methodology of controlling iRobot Create2 by using Arduino Uno to command iRobot Create2 to use operation codes. Instead of using a brute-force way to control the robot motion by commands, which may cause the whole path to go wrong if only one command is deflected. However, with the sensors, the robot can adjust the direction path despite the deviation. The Arduino Uno communicates with iRobot through the serial communication using SoftwareSerial. Arduino requests a sensors data from iRobot and calculates deviations in order to adjust the path. The study includes the general knowledge of Arduino control iRobot Create2 based on the robot's sensors and the detailed process of completing the first round of iRobot Competition.
References
iRobot, "iRobot® Create® 2 Open Interface (OI) Specification based on the iRobot® Roomba® 600," https://www.irobotweb.com/-/media/MainSite/Files/About/STEM/Create/2018-07-19_iRobot_Roomba_600_Open_Interface_Spec.pdf.
iRobot, "Create 2 Programmable Robot," https://edu.irobot.com/what-we-offer/create-robot.
"iRobot Create," http://en.wikipedia.org/wiki/IRobot_Create.
iRobot, "Camera Bot," https://www.irobotweb.com/-/media/MainSite/PDFs/About/STEM/Create/camerabot.pdf.
iRobot, "Dirt Cheap DJ Create® 2 Bin," https://www.irobotweb.com/-/media/MainSite/PDFs/About/STEM/Create/djcreate.pdf.
N. Aphiratsakun, "iRobot Create – The Next Chapter of smart living," pp. 19, 22-23, 2018.
THrobotics, iRobot Rules of the competition of round 1, 2018.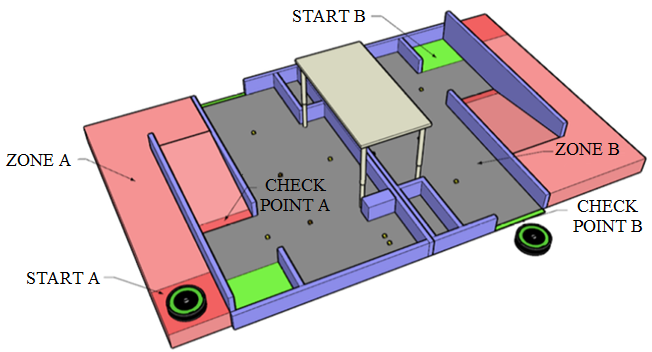 How to Cite
[1]
N. Aphiratsakun and S. Liwsakphaiboon, "Path Control iRobot Create2 Based Sensors", Proc. eng. technol. innov., vol. 16, pp. 45–51, Aug. 2020.
License
---
Submission of a manuscript implies: that the work described has not been published before that it is not under consideration for publication elsewhere; that if and when the manuscript is accepted for publication. Authors can retain copyright of their article with no restrictions. Also, author can post the final, peer-reviewed manuscript version (postprint) to any repository or website.


Since Oct. 01, 2015, PETI will publish new articles with Creative Commons Attribution Non-Commercial License, under The Creative Commons Attribution Non-Commercial 4.0 International (CC BY-NC 4.0) License.
The Creative Commons Attribution Non-Commercial (CC-BY-NC) License permits use, distribution and reproduction in any medium, provided the original work is properly cited and is not used for commercial purposes