Composite Elements for Biomimetic Aerospace Structures with Progressive Shape Variation Capabilities
Alessandro Airoldi

Department of Aerospace Science and Technologies, Politecnico di Milano, Italy

Paolo Bettini

Department of Aerospace Science and Technologies, Politecnico di Milano, Italy

Matteo Boiocchi

Department of Aerospace Science and Technologies, Politecnico di Milano, Italy

Giuseppe Sala

Department of Aerospace Science and Technologies, Politecnico di Milano, Italy
Keywords:
morphing structures, composite structures, chiral topologies, corrugated laminates
Abstract
The paper presents some engineering solutions for the development of innovative aerodynamic surfaces with the capability of progressive shape variation. A brief introduction of the most significant issues related to the design of such morphing structures is provided. Thereafter, two types of structural solutions are presented for the design of internal compliant structures and flexible external skins. The proposed solutions exploit the properties and the manufacturing techniques of long fibre reinforced plastic in order to fulfil the severe and contradictory requirements related to the trade-off between morphing performance and load carrying capabilities.
References
D. Bornengo, F. Scarpa, and C. Remillat, "Evaluation of hexagonal chiral structure for moprhing airfoil concept," Journal of Aerospace Engineering, vol. 219, pp. 185-192, 2005.
A. Airoldi, M. Crespi, G. Quaranta, and G. Sala, "Design of a morphing airfoil with composite chiral structure," Journal of Aircraft, vol. 49, no. 4, pp. 1008-1019, 2012.
P. Panichelli, A. Gilardelli, A. Airoldi, G. Quaranta, and G. Sala, "Morphing composite structures for adaptative high lift devices," Proc. 6th Int. Conference Mechanics and Materials in Design, Ponta Delgada, Azores, pp. 26-30 July 2015
P. Bettini, A. Airoldi, G. Sala, L. Di Landro, M. Ruzzene, and A . Spadoni, "Composite chiral structures for morphing airfoils: numerical analyses and development of a manufacturing process," Composites Part B - Engineering, vol. 41, no. 2, pp. 133-147, 2010.
A. Airoldi, P. Bettini, P. Panichelli, and G. Sala, "Chiral topologies for composite moprhing structures – Part II: novel configurations and technological process", Physica Statu Solidi (b), vol. 252, pp. 1446-1454, July 2015
T. Yokozeki, S. Takeda, T. Ogasawara, and T. Ishikawa, "Properties of corrugated composites for candidate flexible wing structures," Composites Part A: Applied Science Manufacturing, vol. 37, no. 4, pp. 1578-1586, 2006.
Y. Xia, O. Bilgren, and M. I. Friswell, "The effects of corrugated skins on aerodynamic performances," Journal of Intelligent Material Systems and Structures, vol. 25, no. 7, pp. 786-794, 2014.
S. Fournier, A. Airoldi, E. Borlandelli, and G. Sala, "Flexible composite supports for morphing skins," Proc. XXII AIDAA Conference, Naples, Italy, pp. 9-12, 2013.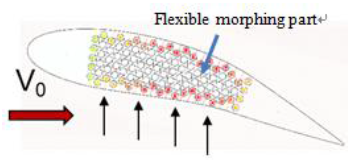 How to Cite
[1]
A. Airoldi, P. Bettini, M. Boiocchi, and G. Sala, "Composite Elements for Biomimetic Aerospace Structures with Progressive Shape Variation Capabilities", Adv. technol. innov., vol. 1, no. 1, pp. 13-15, Jul. 2016.
Copyright (c) 2016 Advances in Technology Innovation
This work is licensed under a Creative Commons Attribution-NonCommercial 4.0 International License.
---
Submission of a manuscript implies: that the work described has not been published before that it is not under consideration for publication elsewhere; that if and when the manuscript is accepted for publication. Authors can retain copyright in their articles with no restrictions. is accepted for publication. Authors can retain copyright of their article with no restrictions.
Since Jan. 01, 2019, AITI will publish new articles with Creative Commons Attribution Non-Commercial License, under The Creative Commons Attribution Non-Commercial 4.0 International (CC BY-NC 4.0) License.
The Creative Commons Attribution Non-Commercial (CC-BY-NC) License permits use, distribution and reproduction in any medium, provided the original work is properly cited and is not used for commercial purposes.