Time Series Analysis of Outcomes for Small and Medium Enterprises' Support of Regional Industry
Keywords:
Time series analysis, Regional industry, Support SMEs, SPSS statistics
Abstract
Continued investment in Research and Development (R&D) by the government and corporate support played a major role in the rapid growth of the Republic of Korea. In 2017, the amount of R&D investment by the government accounted for 19.7 trillion Won (KRW), which is 4.7 % of the government's budget. The government's R&D budget is increasing by 2.5 % each year. We analyzed the outcomes of the projects, supported by the Busan regional companies conducted in 2016 to 2017. For a time series analysis, we gathered companies support amount by year, sales after company support, and material for employment. We used IBM's Statistical Package for the Social Sciences (SPSS) 18 for correlation analysis. We confirmed the relationship between employment and the sales of the annual company support program.
References
S. S. Lee and Y. E. Kim, "Efficiency analysis of enterprise support project for nurturing specialized industries in
Jeonnam area," 2016 Korean Institute of Industrial Engineers, Symposium, 2016, pp. 34-40. (In Korean)
G. H. Kim and Y. H. Won, "An analysis of performance influence factors of enterprise support based upon the local industrial development policy: focused on the industry types of region-specialized industries," Korean Association for Policy Science, 2015. (In Korean)
Y. S. Kang, S, M, Sohn, S. J. Im, and B, Y, Cho, "A study with DEA analysis on the efficiency of the government support for small and medium enterprises," Korea Academic Society of Business Administration, 2014, pp. 1891-1907. (In Korean)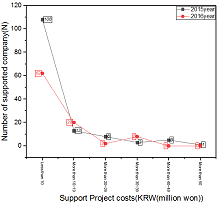 How to Cite
[1]
D.-G. Lee, J.-D. Ryu, K.-S. Nam, and K.-N. Ha, "Time Series Analysis of Outcomes for Small and Medium Enterprises' Support of Regional Industry", Proc. eng. technol. innov., vol. 12, pp. 35–38, May 2019.
License
---
Submission of a manuscript implies: that the work described has not been published before that it is not under consideration for publication elsewhere; that if and when the manuscript is accepted for publication. Authors can retain copyright of their article with no restrictions. Also, author can post the final, peer-reviewed manuscript version (postprint) to any repository or website.


Since Oct. 01, 2015, PETI will publish new articles with Creative Commons Attribution Non-Commercial License, under The Creative Commons Attribution Non-Commercial 4.0 International (CC BY-NC 4.0) License.
The Creative Commons Attribution Non-Commercial (CC-BY-NC) License permits use, distribution and reproduction in any medium, provided the original work is properly cited and is not used for commercial purposes